Which anti-histamine has maximum sedation? Wait … which one has minimum sedation?
Anti-cancer drugs….. Bungara-Bungarotoxin??? Snakes??? Pufferfish????
Your mind might be a glorious mess right now and why not? Usually, pharmacology is studied in the earlier years of medical college and by the time of completion of college, it is almost forgotten!!!!
The way you have been studying till now might be buried somewhere deep in your memory like TITANIC at the bottom of the Atlantic Ocean…But, not to fear, it will definitely be found & salvaged…
Pharmacology is a very vast subject and you are supposed to know –
Almost everything about the drug,
Mechanism of action
Indications
Routes of administration
Routes of eliminations
Excretions
Contraindications
Drug interactions
Whenever you are thinking to start studying pharmacology, just keep in mind that finish your clinical subjects first and then come and discover pharmacology. By doing so, you will feel more confident and less frustrated after every chapter because everything is so very much connected with each other.
You will not only remember everything better, but you will also remember the drug of choice for Laubert Edton Syndrome much better after you have studied deeply about the disease in your medicine.
The same goes with your scary anti-cancer drugs/ monoclonal antibodies after you have finished your gynecology, surgery.
PRO TIP: Try studying easy chapters first followed by the hard ones. By doing so, you will be less frustrated and more productive.
The thing that makes studying pharmacology challenging is the fact that there are no shortcuts to attain proficiency in the subject. You have to be very precise while studying the subject. It is very important to have atleast 2,3 revisions of the subject before any exam.
As such you have to study all bits and bytes of the subject, but some of the very important topics that you must not ignore while preparing for the NEXT EXAM, along with the time distribution are-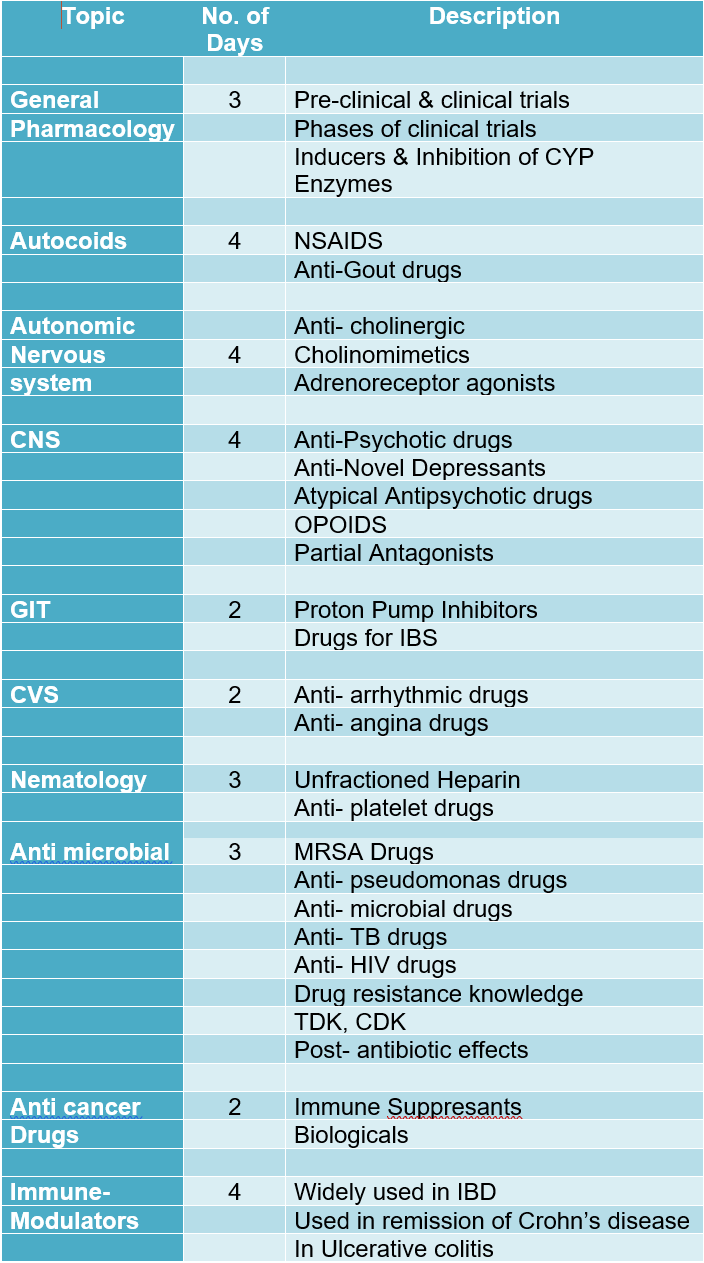 As you all have jotted down the important topics to be covered seriously for the exam, don't forget to revise 2,3 times before the exam.
If you want to make your concepts more clear, then, without giving a second thought, just go for the book –
REVIEW OF PHARMACOLOGY by Dr. Sparsh Gupta
This book is available at almost all book stores and even you can order it online. Once the book is in your hands, whole pharmacology is in your grip.
This book is based on the latest exam pattern and includes image-based references to clear all your concepts about the topics.
You will find the

"Numerical Questions"

along with the explanations which are covering almost all important topics.
Sparsh Gupta has added a special chapter on the

"Adverse Effects of Drugs"

, which makes it easier for you to know the topic.

"Golden points"

are included in the book to recapitulate every chapter. This makes your revision easier.
The book is full of

easy and sharp mnemonics

, which definitely serves as a positive point in learning things.
The

"High Yield Points"

are separately highlighted in the book, which itself is a plus point for better revision.
Not only this much,

"Conceptual Questions"

are differently added in this book.
This book is flooded with

"Tricky MCQs"

for sharpening your brain as brain teasers.
If then also you feel unsatisfied (which is not possible), you will find all

"Previous Year's Papers"

which you can practice as extras.
Shocked to hear that all these things are available only in 1 book? Then yes… don't think, just act smart and go for the book.
Some of you still might be in doubt and looking for teachers that can explain things to you right in front of you. No need to worry….. FMGE SOLUTIONS INSTITUTE is always present there in just one click away in your cellphones.
You can either opt for classroom teachings by joining the institute on regular basis or either relax at home in this pandemic situation and start studying through the app from your phones.
In the app, you can easily access the theory lecture classes taken by the esteemed faculty and none other than Dr. Sparsh Gupta, which is just a cherry on the cake.
You can attend live discussion sessions and quiz sessions taken by experienced teachers.
Grand tests are available, which you can easily attempt and check your progress in comparison to other students also.
More than enough is available to you, what you have to do is to avail the facilities and don't miss the opportunities as opportunity knocks only once, but here you have maximum opportunities to avail.
At last, some of the basic tips and tricks, which are usually ignored but are very useful are-
STUDY SMART– Study smartly through various sources which you feel are best for your preparation.
FOLLOW TIME- TABLE– Always make time table during your preparation days. This will keep you active as well as concentrated on your aim.
CLEAR DOUBTS– Never leave any doubts in your mind while studying. As the doubt arises, just clear it otherwise it can create problems while solving or attempting question papers.
ATTEMPT MOCK TESTS– Attempting many question papers and going through different categories of questions and solving them will boost confidence in you and you will be exam-ready without any doubt.
BEWARE OF NEGATIVE MARKING– Being confident is still good but being overconfident is very bad which sometimes leads to attempting many questions and you forget about negative marking. So while attempting any exam, make sure about thinking of negative marking.
All these points in your mind and all material in your hands, a perfect combination. Go for it and make yourself exam-ready.