FMGE Exam Last Month Revision Sheet
Hello Doctor!
Welcome to the most precious month of your life. The make or break happens now. The hard work
you will put here is what you will CHERISH for the rest of your life.
"2020, the pandemic year is when I got my registration to practise in India to serve my nation" is
what you will tell your juniors.
Please TAKE a print out of this Document and try to fill in maximum tick marks in this table over the
next few days.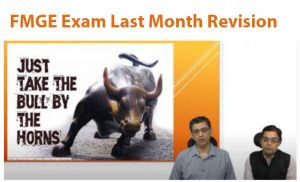 You have to read fast with maximum concentration and attempt Questions daily from either
Prepladder or FMGE solutions. Do not neglect the same as exclusion capability has to be maintained.
The no of days per subject is left blank here and can be filled by you as well depending on your
reading speed. You have to manage about 14 to 16 hours of study per day in four sessions of 4 hours
each. Going through notes and MCQ of that subject on that day is a must. Do not sleep till that
subject is finished.
Today you will struggle but tomorrow you will be happy!